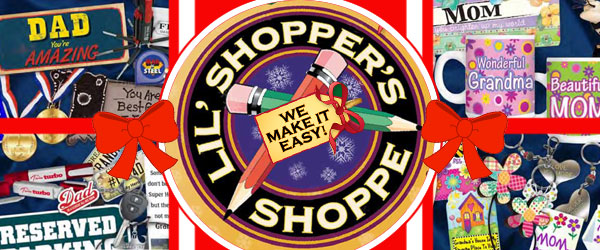 Holiday Shop Fundraising Time is Here!
Yes, it's already that time of year! Spread the holiday spirit in your school with our Lil' Shopper's Shoppe –  Holiday Santa Shop! Kids love shopping for their families and parents love watching their kids share in the spirit of giving. It's never too early to sign up. Holiday Shops usually begin the last week in November through the third week in December. In fact, for those schools who do sign up early, we're offering some pretty impressive bonuses.
Early Signing Bonuses:
$1.00 credit given to EVERY student. This ensures that your entire student body can have an opportunity to share in the fun.
Call today and let us show you how we can boost your school fundraising efforts and make this years Holiday Shop (aka "Santa Shop") the best ever! We'll get you started with the hottest selling items and work closely with you to keep them stocked on the shelves.
Toll Free (800) 666-4136
Local (330) 645-7900