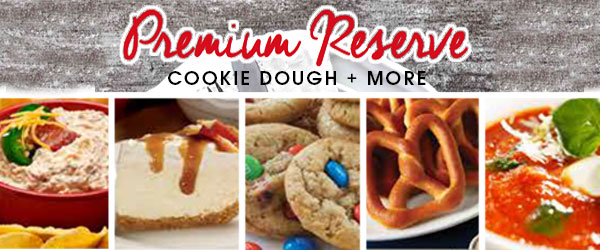 Premium Reserve Collection – Cookies – Snacks & More!
Launch your next fundraising program off with some of the finest shelf-stable cookie doughs, cheesecakes, brownies, funnel cakes, soft pretzels, cinnamon rolls, soups and party dips available! This winning, order-taker program is perfect for the elementary school, church group, band/choir or Little League organization looking to raise money the easy and delicious way – selling products that everyone loves!
Our PREMIUM RESERVE COLLECTION is one of our most popular, and highest-profit programs! Virtually a self-seller – and here's why: 
DELICIOUS, SHELF STABLE COOKIE DOUGH! Our Premium Reserve Cookie Dough is made with the finest ingredients and includes some of the most recognizable names in mouth-watering flavor, Quaker® Oats, M&M® candies, Heath® pieces, Andes® mints, and many more. Your satisfaction IS GUARANTEED! Cookie Dough is available in a dozen different, ready-to-bake recipes including a highly popular, Chocolate Lovers Variety Pack. (For those who refuse to choose!)
CHEESECAKE mixes in flavors such as Pumpkin and Caramel Apple. A fall favorite!
AUNTIE ANNE'S® SOFT PRETZELS! Want freshly baked Auntie Anne's pretzels but you're nowhere near the mall?  Well, so will your fundraising patrons. This order-taker program is a crowd favorite and makes perfect pretzels. Or get creative and make pretzel dogs, deep dish pretzel pizza, gourmet breads or more! Each order comes with a coupon for a free pretzel when you do make it to the mall.
CINNABON® BAKING KIT: You children will have no trouble at all selling the delicious flavor of a Cinnabon® Cinnamon Roll! This kit also includes a coupon for a free Cinnabon® Cinnamon Roll at participating bakeries.
FUNNEL CAKES AND CHOCOLATE BROWNIE MIXES – Bursting with double chocolate or powdery sugar flavors.
HOMEMADE GOURMET – SOUP, PARTY DIPS and LOUISIANA GUMBO MIXES: Double-pack boxes so your patrons can enjoy them now and later. Flavors include Baked Potato Soup, Fiesta Soup Trio, White Chicken Chili Mix, Three Cheese Garlic Biscuits, Real Dill and Jalapeno Dip Mixes, Cheese Ball mixes, and the Creole favorite, Louisiana Gumbo!
READING ABOUT THESE GREAT FUNDRAISING FLAVORS IS ONE THING, BUT IT'S BETTER TO SEE THEM HERE!
> Download our Premium Reserve Collection Brochure PDF
---
We also offer the NATION'S LARGEST PRIZE PROGRAMS in fundraising!
Our fundraising incentive program offers many great prizes, fun events and other proven, incentive-based prize models to get your fundraising kicked off right and keep the excitement going all the way to your fundraising goal!
---
WHAT TO DO?

CALL OR EMAIL US TODAY!
To hear about our great profit tiers and to get your next fundraising efforts started with one of the nation's most delicious cookie dough and snack programs, call us today toll free at (800) 666-4136 or locally at (330) 645-7900.