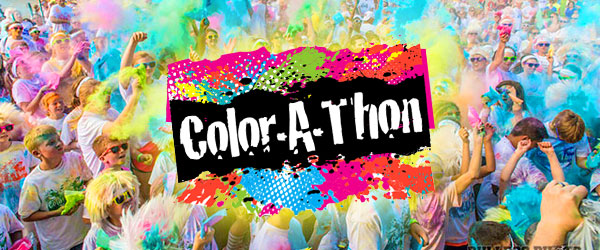 Color-A-Thon FUN-Raising Event!
The Color-A-Thon™ is one of our most popular school fundraising events, and it will soon be yours as well!
To hear more details about the amazing fun and profits (up to 70%) for our Color-A-Thon Events, fill out the short form below and someone will contact you ASAP!
As one of the nations' top school fundraising companies, can answer any questions you may have. Contact Us toll free at (800) 666-4136 and locally at (330) 645-7900.
What is a Color-A-Thon™?
For this fundraiser, participants will collect pledges from family, friends, neighbors and coworkers to run or walk in the 3k race/walk that ends in a joyous blast of color!
---
There Are TWO Ways To Pump Up The Color And The Profits!
DONATION-BASED COLOR-A-THON: Looking for a high profit return as well as a school fundraiser your students will enjoy? Then consider the donation based Color-A-Thon! Students will earn rewards and event-day upgrades based on the level of donations they receive. (For example: A student will receive a t-shirt, color pack and can participate for as little as $30 in donations -OR- for over $500, they can totally "rock it out" wearing Wacky Tu-tus, Rainbow Stockings, Megaphones, Wiper Glasses, Wacky White Wigs and extra Color Dye Packs! This fundraising program promotes student and family participation and is a fun-raiser!This option is perfect for elementary and middle schools!
ENTRY FEE COLOR-A-THON: This simplified version is a great option for High School fundraising, Church Groups and for Community Events! A flat entry fee gets you into the fun and includes a Color-A-Thon T-shirt and Color Dye Pack. In addition, we'll send you extra bulk color according to your number of registrants. Nothing beats community fun while working towards your great cause or fundraising goal!
---
Get Set: How The Color-A-Thon Works
Color-A-Thons are fun and easy fundraisers with our Event Planning Guide containing a step-by-step guide through the entire process. From the initial planning stages with your fundraising committee, the Kick-off, all the way to the actual Color-A-Thon event, this guide will provide you with all the information you need for a successful event. We even provide you with a D.J. Party Guide!
From start to (colorful) finish, we provide you with the tools to make this event a huge success, including  T-shirts and color packs for all who register/participate, the event site, flags and route markers, the option to purchase items to sell at the actual event, Money Management Software for accepting credit cards and running reports, and so much more!

---
CHECK OUT OUR COLOR-A-THON VIDEO!
---
BOOST YOUR PROFITS WITH PERSONALIZED WEBSITES!
Students can create and track their own donations plus your group has its own personalized event website!
Personal Student Website
Event Website for community registration and for marketing
Take walk-up registrations right up to the start of your event
Banner spaces to sell (up to 10): Displays on both the Event and Individual's websites – use the profits for your After Party!
Social media buttons to give your students another way to spread the word!
---
Go!: What To Do Next?

Pick your color run fundraiser date and then fill out this form! From there, we will help you plan and promote with our school fund raising ideas for the Color-A-Thon event.
---
Don't let the Color-A-Thon fundraising event pass you by, Get Ready, Get Set— Go!